Storage Unit Information
Customer Services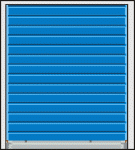 H & H Mini Unit Storage Office now located at 4760 IL Route 173, Poplar Grove, IL 61065
Call (815)943-6629 for Assistance or to Make an Appointment.
Store your Car, Boat, Motorcycle, or RV with
H&H Mini Unit Storage
for the Winter!








We offer outdoor parking spaces to accomodate cars, trailers, boats and RV's at our Poplar Grove facility in a secure, fenced in space with 24/7 access with your personal touch pad code.
Indoor 10 x 20 spaces are perfect 1 car garage storage.

We also offer a limited number of oversized units with extra tall and wide doors to accomodate wider, taller boats and trailers. For availability and pricing, call us with the width, length (including hitch) and total height of your boat or RV.


Make sure you measure carefully, including the wheel wells on the trailer and the length from tip of the trailer bib to the tail end to ensure your vehicle will fit! Pricing for these units varies by size, and only a limited amount are available. Call today at 815-943-6629!


EMAIL H & H STORAGE!
| Home | Contact us | Storage sizes | Directions | Comments and Questions |
Ⓒ H & H Mini Unit Storage 2022 All Rights Reserved