Storage Unit Information
Customer Services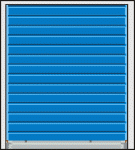 What are Temperature Controlled Storage Units?

Temperature Controlled storage units are heated in the cold weather, and cooled in hot weather to protect your valuables from the changes in extreme weather - which is common in Illinois. Climate Controlled Units, are usually temperature controlled but also humidity controlled which prevents mold or mildew and other moisture problems.

We do NOT offer either Temperature Controlled or Climate Controlled Units at any of our locations.



What are Non-Temperature Controlled Storage Units?

Non-Temperature Controlled storage units, often called "cold storage" are typically one story metal buildings, with drive up access, which have no heating, cooling or electrical service. They are windowless, with corrugated metal walls, ceiling and roof, and have concrete floors with natural ventilation. Each unit is accessed by opening a roll-up metal door, which is usually about the same size as a one-car garage door. The renter supplies his/her own lock and keeps their key.

It is strongly recommended that renters place any boxes or moisture sensitive furniture up on pallets (we supply the pallets) to ensure proper ventilation and prevent moisture from "wicking" up out of the concrete and damaging cardboard boxes or other items.


We maintain hundreds of "Traditional" units at our Poplar Grove, Capron and Harvard facilities of many different sizes.
Call today at 815-943-6629 for more information!



What does Controlled Access Mean?

A controlled access facility employs security guards, surveillance cameras, individual unit door alarms and/or other means of electronic gate access such as a keypad or prox card to "secure" the units and property. Unfortunately, these measures are NO GUARANTEE that a determined thief cannot or will not break into the unit anyway, and these measures are VERY EXPENSIVE, which is why controlled access facilities cost much more than others. If you are considering renting space at a controlled access facility, ask to see their lease and whether they have a clause that says they are not liable for break-ins. They probably do, and the extra money you are paying may well be a waste of money.

One in ten U.S. households now rent a self storage unit. The growing demand for self storage in the U.S. is created by people moving (some 40 million Americans move each year), and by various lifestyle transitions, such as marriage, divorce, retirement, call to military duty, foreclosures, a death in the family, etc. These are not people who want to pay more than necessary to store their possessions - times are hard enough as it is.

H & H Mini Unit Storage has Controlled Access at our Poplar Grove location only. In Poplar Grove, our units are enclosed in a secure fence, with key pad access. We have multiple cameras on the property for security. We also have strong relationships with local police and sheriff departments who monitor all of our properties regularly, and even park in our lots to do their paperwork! They are an excellent deterrant to thieves, and we appreciate the great job they do.

Each renter supplies his/her own lock to their storage unit, and we have found through experience that although break-ins do very rarely occur, (any company who says it "never" happens is lying) - it generally happens when one of two things happens:
Renters use a cheap, or inferior locks, fail to lock the unit correctly, or just plain forget to close the lock securely . . . or
The thief was someone who knew the renter, knew which unit number they had rented and what they had stored in their unit.
A good quality lock, and keeping your rental information private are your best defense against break-ins! (We sell specialized, excellent quality locks at both our office locations.)


| Home | Contact us | Storage sizes | Directions | Comments and Questions |
Ⓒ H & H Mini Unit Storage 2016, 2017 All Rights Reserved
This site best viewed with Internet Explorer 4.0 or higher and 800x600 screen resolution