Storage Unit Information
Customer Services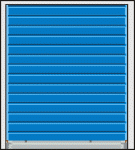 H & H Mini Unit Storage Office now located at 4760 IL Route 173,
Poplar Grove, IL 61065
Call (815)943-6629 for Assistance or to Make an Appointment.

FREQUENTLY ASKED QUESTIONS

EMAIL H & H STORAGE!

We are proud of our facilities and appreciate our tenants. We have tried to provide facilities that are as clean and secure as possible. Doors to each unit are checked regularly to ensure the safety and security we know our customers expect. If we find your unit is not locked, we will secure the unit with our own lock and notify you immediately of the problem by email or phone.

We hope the following information will help answer some of the more common questions you may have. Feel free to call us at our Main Office at 815-943-6629 if you have further questions.


What size are the storage units?
We have a size to fit just about any need, from just a few items to cars and boats. The most common sizes are 5x10, 8x12, 10x10, 10x15, 10x20, 10x25, 10x30, 10x40. More sizes are available.
Click HERE to view our Storage Size Guide



Will I need to sign a long term lease?
No, we rent on a month to month basis unless the customer prefers a longer term. We do have a one month minimum unless special arrangements are agreed to in advance. Call for more information.



Do I pay a deposit, and is it refundable?
Every unit requires a deposit equal to one month's rent that is refundable with pro-rated rent as of the date you notify us that the unit has been emptied. Rent is payable in advance (on the 1st of the month). If you move out and tell us the day you move out, you will receive a refund, by check, of any remaining pro-rated rent for that month as well as your security deposit, once we have verified that the unit is empty, and swept clean. Cleaning and garbage removal fees will be deducted from your security deposit if the unit is not left completely clean and ready to rent.



Can I pay with a credit card?
Yes, and of course we accept cash, personal checks, cashiers checks and money orders.



When do I have access to my unit?
All storage facilities are accessible 24 hours a day, 7 days a week. Our Poplar Grove location is fenced in and requires a code to get in.
Our Capron locations are NOT fenced in.



Do you provide a free lock?
NO. You need to have your own lock. All our units have a dead bolt type locking system which takes any type of padlock.
We recommend a high quality disc type lock for added security.
We do have superior quality disc locks
available for sale at our Main Office in Poplar Grove at very reasonable prices.
There is a $10 fee to cut off your lock if you forget or lose your keys.



Do you provide a garbage dumpster for tenants?
NO. Most of our facilities also have other businesses at the same location, and any dumpsters are the property of those other businesses, and are NOT to be used by tenants. We can provide you with the names of garbage/recycling companies in the area that will rent a dumpster to you for a short term if needed.



Are my contents insured?
NO, our company policy does NOT cover your stored contents, only our buildings. If you have a homeowners or renters policy you may be covered, but contact your carrier to be sure. Not all carriers cover contents stored off premises.



Is there anything that I cannot store?
Yes, hazardous materials and food stuffs. Anything that would be combustible or explosive in nature such as a can of gasoline or cans of paint, dynamite, etc is prohibited.
Also, do NOT store pet food, bird seed, or any other foods. Mice are also attracted to things that smell good like candles and soaps.
Those things will encourage mice to visit, and take up residence in your unit. If it smells good, it will draw mice into your unit.
If you provide a food source, you WILL get mice! You'll be glad you didn't, and so will your neighbors!



Will I have to climb steps to store my belongings?
No, all of our units are at ground level. You simply pull your vehicle up to the unit and unload it at the door. (Note: Climate Controlled units are inside our Poplar Grove Office building, and not easily accessible for drive up.)



Does the facility have lights?
All our facilities have exterior lights on from dusk to dawn. Lights are provided to enhance security as well as provide light for those who cannot
come to the facility during daylight hours. There are NO LIGHTS or ELECTRICAL OUTLETS INSIDE INDIVIDUAL UNITS.



Is there a fence around the facility?
Only our Poplar Grove location has secure fencing and a touch pad. Capron locations do not have fences.



Can a commercial moving van access my storage unit?
In most cases, Yes, depending on where your unit is located.
You MUST be on site with any moving personnel you hire or use.

If you rent a unit at our Poplar Grove Facility, you must accompany the movers and enter your Touchpad Code to let them through the gate.
DO NOT give your code to movers or anyone else, it should be kept private to ensure your security, and that of our other renters.



| Home | Contact us | Storage sizes | Directions | Comments and Questions |
Ⓒ H & H Mini Unit Storage 2023 All Rights Reserved