Storage Unit Information
Customer Services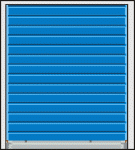 H & H Mini Unit Storage Office now located at 4760 IL Route 173, Poplar Grove, IL 61065
Call (815)943-6629 for Assistance or to Make an Appointment.




Storage Sizes Guides

Also available, outdoor parking spaces for motor homes, boats, campers, trailers, etc. We can accomodate most sizes at both our Harvard and Poplar Grove locations.

For your convenience we offer a variety of unit sizes. This size guide can help you determine what size may be right for you. If you need further help in estimating your space needs, don't hesitate to contact us.

Proper packing and storing can allow many items to be stored in a relatively small place. Listed below is a quick rule-of-thumb reference to help determine the amount of space needed. All of our units feature a minimum of 8 1/2 foot ceilings.


| | | | |
| --- | --- | --- | --- |
| Unit Size | Sq. Feet | How to Visualize | What Could Fit |
| 5 X 6 | 30 | Small closet | Studio Apartment |
| 5 X 10 | 50 | Walk in closet | Studio Apartment |
| 8 X 12 | 96 | Small bedroom | 1 - 2 bedroom home / apartment |
| 10 X 10 | 100 | Small bedroom | 1 - 2 bedroom home / apartment |
| 10 X 15 | 150 | Large bedroom | 2 - 3 bedroom home / apartment or small car |
| 10 X 20 | 200 | One car garage | 3 - 4 bedroom home / apartment or car |
| 10 X 30 | 300 | Extra large garage | 2 - 3 bedroom home / apartment plus a car or boat |
| 10 X 40 | 400 | Extra large garage | 2-3 vehicles - doors on both ends to allow drive thru |